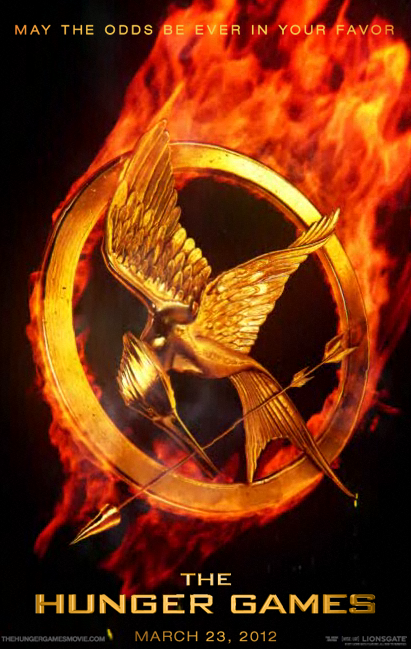 The Hunger Games
Starring: Jennifer Lawrence, Josh Hutcherson, Liam Hemsworth
Katniss is a 16-year-old girl living with her mother and younger sister in the poorest district of Panem, the remains of what used be the United States. Long ago the districts waged war on the Capitol and were defeated. As part of the surrender terms, each district agreed to send one boy and one girl to appear in an annual televised event called, "The Hunger Games." The terrain, rules, and level of audience participation may change but one thing is constant: kill or be killed. When Kat's sister is chosen by lottery, Kat steps up to go in her place.
The Hunger Games is the highly anticipated adaptation of the books of the same name and it did not disappoint.
As a reader of the trilogy, there were some aspects of the movie I was concerned about. Would the violence be toned down too low? How would the acting be? Would Josh Hutcherson finally be in a commercially successful film? All of these concerns we quickly struck down.
Academy Award Nominee/My Future Girlfriend Jennifer Lawrence was perfect as Katniss. I found myself holding my breath and my heart race after looking at the genuine fear in her eyes as she was lifted into the arena. This is a tremendous leap in acting talent for book-to-movie adaptation leading females.
Left:
Bella seeing her child for the first time.
Right:
Bella furious at Jacob
Josh Hutcherson was a fabulous Peeta. He was charming, caring, and completely in love with Katniss. After a vicious streak of critically panned films "The Hutch" has finally broken through to the hearts of movie goers! The budding romance between he and Katniss shines in the midst of the barbaric atrocities surrounding the "star-crossed" couple.
Liam Hemsworth wasn't really in the movie that much but his Gale was spot on. Someone who stood out as brilliant was Stanley Tucci as Caesar Flickerman. His over the top, enthusiastic talk show host persona had me laughing out loud even in the most grueling situations.
Then there was the fighting. Remember those brutal deaths? I was satisfied with how the movie handled them. The shots were steady enough to tell what was happening but shaky enough not to see too many details. Though I would have preferred more detail, it is a solid compromise, since so many younger viewers will be flocking to this film.
This is a fantastic adaptation of the book. There are some minor plot deviations but the important parts stay true. The acting is superb and I didn't feel that there was a "weak link". Overall exceptional cast, dynamic action, and easily one of (if not the) best book-to-movie adaptation!