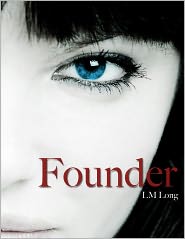 Title: FOUNDER
They've been waiting for decades.

Hidden deep in the Amazon.

Financed by thousands.

A colony called Founder.

And one girl is about to unravel it all.
The first few chapters are completely confusing but in a good way. It's like those movies where you see snippets of what's happening to different characters, and it all seems totally unrelated but you know it's all going to jell together somehow. And it does.
I hadn't a clue where this was going and it was such a fascinating reveal when I finally got it. If you've read some reviews that explain the premise, you'll know what I'm talking about, but for those who haven't I won't spoil it. Suffice it to say it melds the world's wartime past into the present.
It's written from two points of view - Marta, a teen girl in a remote Amazon village, and Lara, a young American woman who ends up traveling to the village with her family. Two gutsy, smart, admirable heroines who speak from extremely different perspectives and cultural backgrounds.
FOUNDER's solid cast of secondary characters easily grow on you, but be prepared for some heart-breaking loss along the way. There's no language or sex but you will find violence and mankind's horrifying behavior, along with some uplifting testimony to the beauty of the human spirit.
I know I'm not giving you much specifics to go on, but I don't want to spoil the discovery of the main plot line. There's no paranormal aspect, just an intense, intriguing grab-bag of history, mystery, danger, revolution, psychological manipulation, and flat out Coo-Coo-for-Cocoa-Puffs crazies.
An engaging, thought-provoking adventure, and considering that it's loosely based on true events, at times a downright chilling tale.
Enter below to win a paperback copy, but keep in mind that last I checked FOUNDER is available on Amazon Kindle for $1.49. What a bargain!
And next month the sequel, HERITAGE, will be available!
Giveaway Details:
Fill out the form below

Must be 13 or older

Enter by Nov 8th

Open to US/Canada