You can check out our review of SIREN'S STORM after you read this exciting excerpt provided by author
Lisa Papademetriou!
_________________________________
What's she doing? Will wondered as he watched her pause briefly at the bottom.
She faced the sea, and then began to walk toward it.
Salt stung Will's face as the frigid water reached her ankles. "Wait!" Will shouted. "Wait!"
But she didn't pause or even glance toward him as she waded into the water.
Will hopped over the rail and raced down the dock, but the water was already up to her waist. "Stop!"
She turned and looked at him. Her face was awash with confusion, and he thought she would turn back. But she didn't move. The wind tore the scream from his throat as a wave crashed over her, swallowing her whole.
"No!"
Her head did not bob back to the surface as Will raced to the water's edge. "Wait!" Icy claws tore at his shins as he waded into the water. "No!"
For a moment, he thought he saw the thick ropes of her hair. He reached out, but his hand drew back only seaweed. Her head didn't reappear above the surface.
A wave loomed before him like sheer wall. Will tried to dive into the calmer base of the wave, but it blasted against him like dynamite, knocking him down. For a sickening moment, his feet couldn't find purchase. In the tumble, he'd lost his sense of how to become upright. Churning sand filled his eyes—he couldn't see. But his fear was lost in his need to find the girl. His arms reached out for her, but she wasn't there. He couldn't breathe….
Suddenly, he felt a strong hand on his arm, and a moment later, his head broke through to the rainy surface. "Will!" Uncle Carl was there, pulling him toward shore. "Will—are you okay?"
Will tried to speak, but sucked in saltwater. He coughed violently.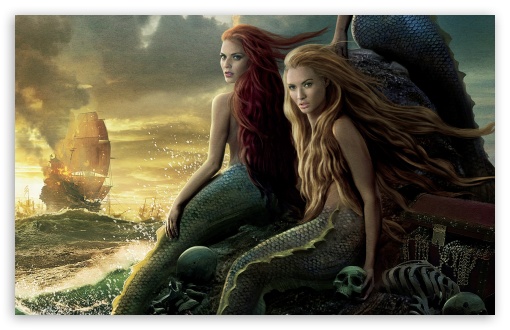 The waves took no pity, continuing their relentless assault. Will's mind was muddled, but his body held a deep survival instinct. Without thinking, he allowed his uncle to haul him toward shore. They ducked and let the waves pass over until they were at the breakers. They struggled toward the sandy beach and Carl did not let go of him, not even when they reached the sandy beach, not even when waves slithered only to their ankles and they collapsed to their knees.
"What were you thinking?" Carl shouted as coughs racked Will's chest. "What the hell were you doing?"
Will shook his head. "I couldn't—" Another fit of coughing overtook him. The seawater that lined his mouth made him want to gag. But he had to say something. He had to let his uncle know that it wasn't his fault…. "I couldn't reach her."
Something flickered in Carl's eyes—something that Will couldn't read. "Who?"
Rain lashed at Will's face, water streamed into his eyes. "The girl—with black hair…."
Carl shook his head. "What girl?"
"She was walking into the water…I tried to stop her…." Will gestured to the crashing surf. "She was right there—five yards ahead of me—"
Carl shook his head, but he didn't say anything else. Will felt his silence like a slap. "You'd better get on home," Carl said. His voice was calm, quiet. He stood up and yanked Will's hand, pulling him to his feet. "I'll finish up on the boat."
"I came out to help you," Will protested. His voice felt feeble as it rose from his throat, and was made even thinner in the wild air.
"You get on home," Carl repeated. "Take my car; I'll take the truck." He patted Will on the back with a hand like an anchor. "I'll be there soon." He looked deeply into Will's eyes for a moment, then turned and started across the sand.
Will felt sick as he stared out at the coal gray water that roared at him. What happened? A large wave crashed at the break point, then smoothed and reached toward him like an arm unfolding. It grabbed at his feet, then retreated and sank, wearily, into the sand. There was no sign of life beyond the breakers. The water left no trace of his struggle to save the girl, no record if she had ever even been there at all.
________________________________________
Is Will crazy? Or is there some mysterious girl that is going to turn his world upside down? We can't say but we will tell you that there is some great mythology going on in this one!
Title:
SIREN'S STORM
author: Lisa Papademetriou

genre: Teen Fiction - Sirens/Mythology
Nothing has been the same for Will ever since what happened last summer. One day, on an ordinary sailing trip with his brother, there is a strange accident. When Will wakes up, he learns his brother has disappeared, presumed drowned. Worst of all, Will can't remember what happened—his family finds him unconscious, with no memory of the accident.Now Will and his best friend and neighbor, Gretchen, are starting a new summer. Gretchen seems troubled—her sleepwalking habit is getting worse, and she keeps waking up closer and closer to the water. Will is drawn to Asia, the exotic new girl in town. Nobody knows where she's from—all Will knows is that her beauty and her mesmerizing voice have a powerful effect on people.


Then there is another mysterious drowning, and Will and Gretchen begin to wonder: Is Asia just another beautiful, wealthy summer resident? Or is she something entirely more sinister . . . and inhuman?