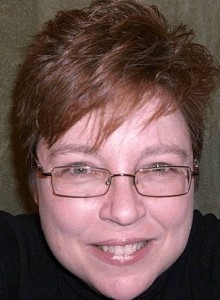 As part of Teen Book Scene's MEMENTO NORA
tour, author Angie Smibert is giving us a sneak peak into her past. If she were to have a garage sale from her teenage years, here's what you would find!
Amazon
/
Website
/
Twitter
/
Facebook
_________________________________
Angie Smibert's Teenage Garage Sale
Vintage LP records (which I still have.)
- Ramones – Rocket to Russia
- Blondie – Parallel Lines
- The Cars – The Cars
Just about every Elvis Costello album
And many more…
Any cassettes I had have long bit the dust. In fact, we wore out some of them—like the B-52's Rock Lobster—at the graduation party we held in my basement.
10-year old Mercury Comet – My parents bribed me to go to the university in my home town (which I was really planning to go to anyway.) They told me they'd buy me a car if I stayed home the first year.
So they bought me a Comet. (I'd never heard of it either). I let people think it was a Mustang. I really wanted a VW bug.
Many pairs wire-rim (and worse) glasses – I started wearing contacts in high school after years of wearing glasses (since I was four).
Jeans (lots of them) – My parents tried to hide my jeans when I was about 13. I found them. And I still wear jeans most of the time. (Not the same ones, of course.)
Burger King uniform – I worked after school at BK to earn money for college. The uniforms then were a gross brown polyester, and everything smelled like fryer grease or the flame-broiler.
____________________________________________
That Comet does look like a mustang! Angie, thanks for stopping by and sharing some insight on your teenage self!
MEMENTO NORA
is a gripping dystopian debut. Look for our review Sat, April 16. Next on the tour Kari @
A Good Addiction
will be reviewing
MEMENTO NORA
so be sure to check it out!
Nora, the popular girl and happy consumer, witnesses a horrific bombing on a shopping trip with her mother. In Nora's near-future world, terrorism is so commonplace that she can pop one little white pill to forget and go on like nothing ever happened. However, when Nora makes her first trip to a Therapeutic Forgetting Clinic, she learns what her mother, a frequent forgetter, has been frequently forgetting. Nora secretly spits out the pill and holds on to her memories. The memory of the bombing as well as her mother's secret and her budding awareness of the world outside her little clique make it increasingly difficult for Nora to cope. She turns to two new friends, each with their own reasons to remember, and together they share their experiences with their classmates through an underground comic. They soon learn, though, they can't get away with remembering.