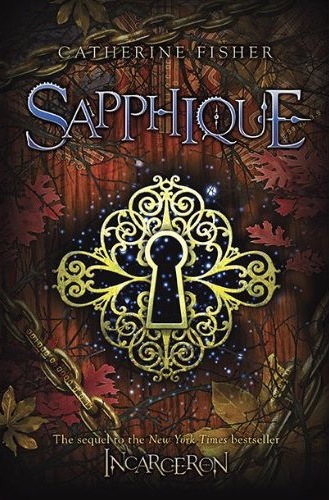 Sapphique
by
Catherine Fisher
Pub: /
Hodder Children's Books
Pages: 480
SUMMARY:
Finn has escaped from the terrible living Prison of Incarceron, but its memory torments him, because his brother Keiro is still inside. Outside, Claudia insists he must be king, but Finn doubts even his own identity.


Is he the lost prince Giles? Or are his memories no more than another construct of his imprisonment? And can you be free if your friends are still captive? Can you be free if your world is frozen in time? Can you be free if you don't even know who you are?


Inside Incarceron, has the crazy sorcerer Rix really found the Glove of Sapphique, the only man the Prison ever loved. Sapphique, whose image fires Incarceron with the desire to escape its own nature. If Keiro steals the glove, will he bring destruction to the world? Inside. Outside. All seeking freedom. Like Sapphique.
Sapphique picks up right where Incarceron left off. Finn has Escaped but it's nothing like he expected. He anticipated freedom and salvation but has only moved to a new prison. And this one's more dangerous than the last.
Be prepared Sapphique is slower than Incarceron - much less action. No sword fights or duels or anything like that. Like the first, the story switches from Outside to Inside and while I enjoyed the cloak and dagger suspense/mystery of the Outside, it could get tedious after a while. I was happy to change pace with our heroes in the Prison evading giant smoke lizard things and surviving metal-storms that could shred them to pieces!


What?! I'm halfway through and the most threatening gesture anyone's made is a sharp curtsy!
Now for "The Good Stuff"
All the characters from Incarceron return, retaining their awesomeness the second time around. The romance between Finn and Claudia remains on the back burner but the friendships are terrific - especially between Keiro and Attia.
My favorite aspect of Fisher's writing is world-building and here's where SAPPHIQUE won me over big-time. In Incarceron, only the prison wing where our heroes started from was explained, and on the Outside, only the castle and the Wardens Manor were described. But SAPPHIQUE takes us on a grand magical tour.
We see the vastness of the Prison itself - more towns traveled through, a multitude of gangs attacking, different lands, places to explore. We "knew" Inside had a lot more to it and now we have the pleasure of experiencing this mesmerizing space.
And the same is true for the Outside. The worlds are fantastic! So Sapphique takes a great Incarceron element and builds on it - adding immense depth in both the Outside and Inside that delivers a captivating and intriguing story.
Sapphique is kind of like Dubai. Don't worry I'll let this picture do the talking.
See?
BOTTOMLINE: Sapphique has less action, but delivers the same terrific characters, a stronger story and unprecedented world-building. A terrific sequel!