Claire de Lune
by Christine Johnson
pub: May 2010/Simon Pulse
336 pages
Teen Fiction
Torn between two destinies?
Claire is having the perfect sixteenth birthday. Her pool party is a big success, and gorgeous Matthew keeps chatting and flirting with her as if she's the only girl there. But that night, she discovers something that takes away all sense of normalcy: she's a werewolf.
As Claire is initiated into the pack of female werewolves, she must deal not only with her changing identity, but also with a rogue werewolf who is putting everyone she knows in danger. Claire's new life threatens her blossoming romance with Matthew, whose father is leading the werewolf hunt. Now burdened with a dark secret and pushing the boundaries of forbidden love, Claire is struggling to feel comfortable in either skin. With her lupine loyalty at odds with her human heart, she will make a choice that will change her forever?
Claire gets a shocker for her sixteenth birthday - you're a werewolf. Gee, thanks mom for warning me. But Claire's mom isn't the warm and fuzzy type - rather cold actually which makes her hard to like, but she seems to be trying as the book goes on.
It's known that werewolves exist but they try to stay under the radar because society considers them savage beasts. Claire meets the local pack and realizes that this isn't the reality, but when a rogue werewolf goes on a killing spree in town, it doesn't help their reputation.
The folklore twist here is that werewolves are only female, and use male humans to get pregnant (if you think about this girl-only thing too long, you can start to question how that can really work, so don't - just go with it). Love and long-term relationships are not encouraged, so of course Claire has a blossoming romance with Matthew who's dad is the fanatical scientist trying to catch and "cure" the beasts.
Matthew is a sweet wholesome fellow who is torn between supporting his dad and his personal beliefs that werewolves may not be that bad. He's an adorable love interest - kind, honest, loyal, athletic and intelligent, and theirs is an innocent romance.
I would have liked Claire to get over her "but how could such a great guy like me" a bit sooner, but overall she's likable and real with her struggles. Her reactions to her new-found situation seemed appropriate. Growing hair and becoming a wolf - yucky. Having to lie to her friends and having little chance at real love - crappy. And she's angry with her mom for all the lies and lack of any warning.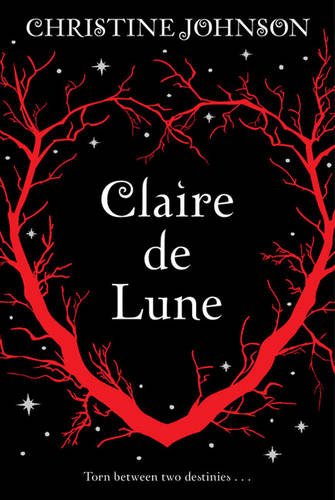 The pace is fairly steady - got a bit slow for me at times - but picks up toward the end. There are several red herrings to keep you guessing who the killer is and enough twists to keep it fun.
SEXUAL CONTENT:
Mild stuff - kissing and cuddling. Oh, and while Matthew and Claire go to a party where there is under age drinking, neither of them consume alcohol. When Claire asks why he isn't drinking, he explains that he isn't interested since it would get him kicked off the soccer team and he'd lose his scholarships which would keep him from getting into a great university - he's not interested in ruining his future. See what I mean - wholesome and intelligent.
THE COVER:
Lovely! I like the US better than the UK (which reminded me of Shiver and Linger).
BOTTOM LINE:
Cute, light, fun, entertaining tale with mythical creatures, danger, betrayal, mystery and romance. Themes of girl-power, self-acceptance, family and bravery-through-adversity are covered. Claire de Lune
doesn't break massive new ground in the werewolf genre, but the writing is good and the story enjoyable. I recommend it as a solid summer read especially for werewolf lovers.
Christine Johnson on the Web