Hey Guys,
We went on a recent movie binge in honor of Alyssa's and Gregory's birthdays (Feb 27 and Feb 28). Here are our quickie reviews...

THE LIGHTNING THIEF

It's the 21s
t century, but the gods of Mount Olympus and assorted monsters have walked out of the pages of high school student Percy Jackson's Greek mythology texts and into his life. And they're not happy: Zeus' lightning bolt has been stolen, and Percy is the prime suspect. Even more troubling is the sudden disappea
rance of Perc
y's mother. As Percy finds himself caught between angry and battling gods, he and his friends embark on a cross-country adventu
re to catch the true lightning thief, save Percy's mom, and unravel a mystery more powerful than the gods themselves
.

If you're looking for a remake of the book, you'll be disappointed. So much of the storyline is changed, it will make you crazy. But if you can get past the changes in plot and a few cheesy moments, it's a fun flick.

The characters are true to form for the most part. Grover is some crazed ladies man which is off from the book, but Percy, Annabeth (other than she's brunette, not blond), and the rest of the folks all play their parts well.

So if you haven't read the book, go and have a blast. If you've read the book and can think of this as a different adventure with your favorite characters, go and have a blast. If you won't accept the changes from the novels, well... Let us mention a couple of other good ones.




FROM PARIS WITH LOVE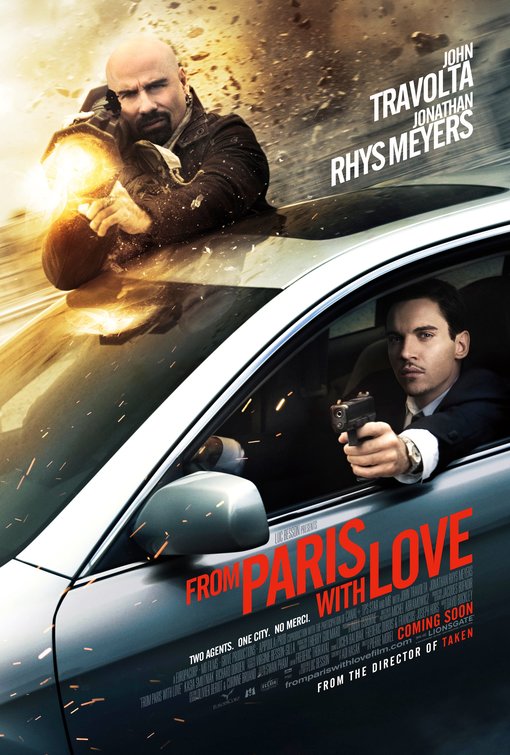 A personal aide to U.S. Ambassador in France, James Reece (Jonathan Rhy
s
Meyers) has an enviable life in Paris and
a beautiful French girlfriend, but his real passion is his side job as a low-level operative for the CIA.

All James wants is to become a bona fide agent and see some real action. S
o
when he's offered his first senior-level assignment, he can't believe his good luck un
til he meets his new partner, special agent Charlie Wax (John Travolta) - a trigger-happy, wisecracking, loose cannon who's been sent t
o Paris to stop a terrorist attack.

Wax leads James on a white-knuckle shooting spree through the Parisian underworld that has James prayi
ng for his desk job. But when James discovers he's a target of the same crime ring they're trying to bust,
he realizes there's no turning back...and that Wax himself might be his only hope for making it through the next forty-eight hours alive.


An absolute rip roaring good time. Think
TAKEN
(
with Liam Neeson - it has the same director) but with humor. Travolta shows his versatility once again as Wax. He is so much fun but so smart and deadly. This guy gets it done! Rated a well deserved 'R' for language and violence (but no nudity),
From Paris With Love
, is like the energizer bunny - the action and thrills keep on going and going and going.





SHUTTER ISLAND
It's 1954, and u
p-and-coming U.S. marshal Teddy Daniels is assigned to investigate the disappearance of a patient from Boston's Shutter Island Ashecliffe Hospital. He's been pushing for an assignment on the island for personal reasons, but before long he wonders whether he hasn't been brought there as part of a twisted plot by hospital doctors whose radic
al treatments range from unethical to illegal to downright sinister.

Teddy's shrewd investigating skills soon provide a promising lead, but the hospital refuses him access to records he
suspects would break the case wi
de open. As a hurricane cuts off communication with the mainland, more dangerous criminals "escape" in the confusion, and the puzzling, improbable clues multiply, Teddy begins to doubt everything - his memory, his partner, even his own sanity.


Brilliant. Absolutely brilliant. We see academy award in Leo DiCaprio's future.

We haven't read the book so we can't compare it to the novel and we went in thinking this was a scary horror flick. Not so. It's a psychological suspense thriller of the first order with so many twists and turns that we were picking our jaws off the floor at the end.

Yes, we all knew something was screwy, but we never saw the truth coming. And even when it did, we were all going, "No, no, no. That can't be true!" It's like the
Sixth Sense
because at the end you are going back and trying to make all the pieces fit into your new paradigm.

While DiCaprio is phenomenal, the rest of the cast is also fantastic. Ben Kingsley and Mark Ruffalo are stand outs. We all loved it!