**Giveaway ALERT!

A comment on this post (within 7 days of post date) get

s you 5 extra entries in our MegaBook Giveaway. If you haven't entered yet, go to the contest post

(or click on the contest link on

the upper right sidebar) to enter! Good luck!



Hearts at Stake
by Alyxandra Harvey
pub: Dec 2009
248 pages

SYNOPSIS:


Solang
e Drake's sixteen birthday is finally here, but in her family, this day triggers the transformation from human to vampire. Her seven older brothers each made it throught the potentially deadly passage, but since she's the first female-born vampire in almost 800 yeaars, and since her birth was foretold in a prophecy that predicts she will united all the vampire clans as their queen, this birthday isn't looking quite so sweet. Solange could be killed by the transformation itself, or by one of the existing queen's followers who are after the bounty on her head.

Luckily her protective older brothers and her very kick-butt best friend, Lucy, have her well being at heart. And it will take all of them- plus the help of their nemesis, Kiernan Black- to make sure Solange survives. By the stroke of midnight, her fate will be sealed, one way or another.




REVIEW:


This is a fun read. The protagonists are a blast. Yes, protagonists, plural.

I started out reading

Hearts at Stake

and became confused. If you read back cover, it's about Solange, would-be vampire princess. But the prologue is titled "Lucy" and is in first person from her point of view.

Hmmm....

I like Lucy, she's feisty and fun. But then the first chapter, six pages later, is titled "Solange" and is first person from her point of view.

Whoa, whoa, whoa. What is going on? So then I start flipping through the book, chapter by chapter and realize that each chapter alternates from Lucy first person to Solange in first person. This is different, so I regroup.

Okay, I dealt with this with

Shiver

and while awkward at first, it eventually worked out. So I kept reading. It did eventually work out to where I was totally comfortable with it.

I think it took me longer because both points of view are girls and the same age. And since Lucy is the more vibrant personality, I found it hard to connect when I changed to reading Solange's chapters.

Because there are two girls in the lead on this one, there are also two male love interests. Nicholas, Solange's hot brother, was Lucy's beau, and Kieran, the vampire hunter, for Solange. Both guys are hot, sweet and attractive. Both romances are cute, with Lucy and Nicholas being focused on more than the Solange and Kieran.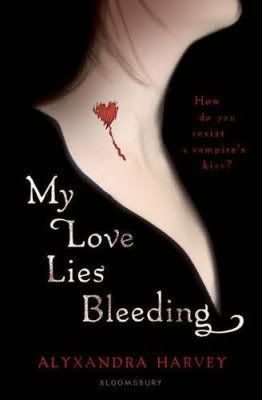 Now, did I like the book?

Yes. It was fun, fast paced and full of humor. The vampire lore is something with a new twist. Solange's family is great. Her seven older brothers are all gorgeous and kick-butt because they have been trained by her ninja-even-before-she-was-a-vampire mom who leads all the physical attacks.

I think the mom, Helena, was my favorite character. At one point their house gets attacked by this group of vampire hunters and she leads her sons outside and into the fray. The dad's just standing at the doorway and finally says, "Leave me one alive," and Helena yells, "Spoilsport." Terrific fun!

Lucy and Nicholas get the most face time and their romance is a blast. Lots of banter and the sexual tension rises but stays innocent. Nicholas is a dreamy but has a hard edge. Lucy is playful and has lots of fire, whether she's trying to protect her best friend or mouth off to the bad guys...or Nicholas.

Solange is sympathetic as the young girl trying to deal with the drama and changes going on around and within her. She is self-sacrificing for her family and her growing affection for the guy who was initially trying to destroy her is sweet. Kieran is endearing as he tries to figure out where his loyalties lie.

Another thing I liked was the fact that the parents were happily married and the kid's got along with them - both Lucy's (they were gone on a trip during most of the book) and also Solange's. It was refreshing to have happy family lives for our protagonists.

Additionally, I was thrilled that Lucy and Solange were good friends. They cared for each other and had each others' backs. This friendship was solid and a good representation of how good friends act toward each other. Yes, Lucy developed feelings
for Nicholas but she never lets that take precedent over her friendship with Solange. Yay, for awesome best friends in a YA!

The romance is innocent. There is some mild use of language but it wasn't overdone.

While it is a series, the ending had satisfying closure. None of the major cliffhanger type of stuff. Thank you Ms. Harvey, for finishing the story!



Hearts at Stake

(or

My Love Lies Bleeding

in the UK) is a fast and fun romp for us vampire lovers so pick it up and sign on for the ride!


The Cover:
I'm torn between the two covers. I like the US cover. I think it captures the lighthearted flavor of the book. What I don't like is that the girl is supposed to be Solange but it isn't how I picture her, and I also think it has a more juvenile feel. Overall, I prefer the UK cover. I like the colors and not seeing the girl's face. As to which title? Not sure. Guess it would be Hearts at Stake. It just seems more fun and this book is all about the fun!


First Lines
:
Normally, I wouldn't have been caught dead at a field party. If you'll pardon the pun.

It's okay. This is Lucy speaking and it captures her personality well.



Feel free to add the link to your own review of Hearts at Stake at the bottom of this post.



And for your added pleasure, here's the synopsis for the sequel,
Blood Feud
.
It's been centuries since Isabeau St. Croix barely survived the French Revolution. Now she's made her way back to the living and she must face the ultimate test by confronting the evil British lord who left her for dead the day she turned into a vampire. That's if she can control her affection for Logan Drake, a vampire whose bite is as sweet as the revenge she seeks.
The clans are gathering for Helena's royal coronation as the next vampire queen, and new alliances are beginning to form now that the old rifts of Lady Natasha's reign have started to heal. But with a new common enemy, Leander Montmarte—a vicious leader who hopes to force Solange to marry him and usurp the power of the throne for himself—the clans must stand together to preserve the peace he threatens to destroy.
This second adventure in the Drake Chronicles—told from both Logan's and Isabeau's perspectives—has all the same butt-kicking action, heart-pounding romances and snarky humor that readers loved in Hearts at Stake, as well as exciting new revelations about the vampire dynasties to keep readers coming back for more.