Since so many people commented that they love the Glee TV show, (and we have to wait until April for more) we thought we'd offer one of the Glee CD's as a Winning Wednesday prize. The winner can choose which they would like to win. So thanks for helping promote this contest because The More Followers, The More Winners!

We received both CD's from Santa and can tell you with confidence that the music is awesome! You don't have to be familiar with the show to enjoy the music and it's for all ages - we love it, our friends love it, our parents love it and even our grandparents love it!

1) Don't Stop Believin'

2) Can't Fight this Feeling
3) Gold Digger

4) Take a Bow

5) Bust Your Windows

6) Taking Chances

7) Alone
8) Maybe This Time
9) Somebody to Love
10) Hate On Me

11) No Air

12) You Keep Me Hanging On

13) Keep Hanging On

14) Bust A Move

15) Sweet Caroline

16) Dancing With Myself

17) Defying Gravity


You get the fabulous G
lee cast and an additional bonus of the stunning voice of Kristen Chenoweth singing
Alone
and
M
aybe This Time
.
1) Proud Mary
2)Endless Love
3) I'll Stand By You
4) Don't Stand So Clo
se to
Me/Young Girl
5) Crush
6) You're Having My Baby
7) Lean on Me
8) Don't Make Me Over
9) Imagine
10) True Colors
11) Jump
12) Smile (Lily Allen song)
13) Smile (Charlie Chaplin song)
14) And I'm Telling You I'm Not Going
15) Don't Rain On My Parade
16) You Can't Always Get What You Want
17) My Life Would Suck Without You
To enter you must:
1) Be a follower
2) Fill out THIS FORM
3) Comment on this post
. Perhaps you could let us know what your favorite song is from the playlist, or who is your favorite character, or just say Hi!
Our favorite character by far is Sue Sylvester!

And that's how we "C" it.
Check out the ENTRY FORM. You can get extra points by the usual: tweeting, posting, and putting it on your sidebar. But we've added some extra extras...
-Referring Someone
-Letting us know who referred you (it can be us if you just follow our blog)

-And following our Affiliates: Mindful Musings and Bloody Bookaholic

(Great blogs! Just click their buttons below to check them out!)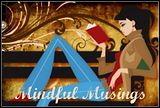 And as an added incentive/bonus, if we get to 525

followers

by the end of the contest we'll add another winner, if we get to 550, we'll add another. Make it to 575? You guessed it...another winner added! All winners will have their

choice of Volume 1 or 2.



Is it International?
Yes, but here's the thing. The CD's will be coming from the US. We don't know if CD's are compatible worldwide, so if you live outside the US it's up to you to determine if the CD's will work for you. Hey, International Buddies, does anyone know if CD's work worldwide?
If you haven't seen the show, we promise you'll love the music, and you can always go online to catch the full episodes.
Contest will end Jan 26 at midnight Pacific Standard Time.
And you NEW MOON lovers, be sure to

Enter

our 2010 calendar contest!