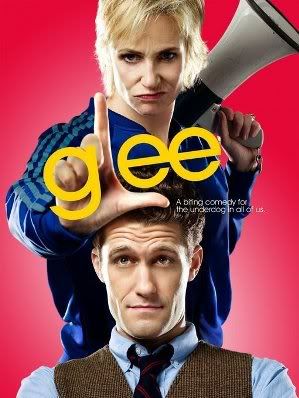 We don't talk about TV so much but we just want to give everyone a heads up about a great show called Glee.
If you haven't heard about it...
Glee is the tale of a high school's Spanish teacher, Mr. Schuester, trying to restore his school's Glee club.
What is a Glee club? A Glee club is a musical group that specializes in singing and dancing to short songs.
You might think since it revolves around Mr. Schuester and his students that adults won't like it, right? WRONG. This series is great for everyone! It's jam packed with humor. There's drama amongst the teens, but then there's also the lives of Mr. Schuester and the fellow teachers -- like Mrs. Sylvester, the hilarious cheerleading coach hell bent on the destruction of the Glee club, and hoping Mr. Schuester finds a "hairstyle that doesn't make him look like a lesbian."
To top it off, this series has killer music. Like, seriously
amazing
music. Great songs from...any time period. From the 60's Barbara Streisand to 80's Young MC to today's popular artists. Glee's got it all, and a wonderful skit or dance number to go with it.
A colorful cast of characters, music, dancing...it's our favorite show on television.
But, hey, don't take our word for it. We've posted a few videos of our favorite dance numbers, so check them out and tell us what you think!
Glee Football Dance (single Ladies) HQ Full Video - The funniest home videos are here
Bust Your Windows

Glee | MySpace Video