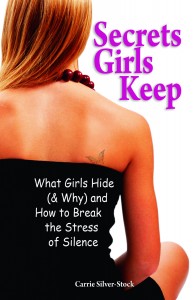 Secrets Girls Keep
by Carrie Sliver-Stock
Nov 2009
268 pages
Synopsis:
This book is for every girl with a secret, which pretty much means every one. O
ur secrets help us, hurt us, and sometimes even haunt us beyond high school. Secrets like:
I hate the way I look.
My boyfriend yells at me.
I'm cheating my way through chemistry.
I lost my virginity and regret it.
I went to a party and didn't tell my parents.
My mom drinks too much.
By revealing the personal stories, struggles, and secrets of other teen girls, Carrie Silver-Stock shows how to deal with everyday stresses by being self-reliant, not silent, and how to get real about what matters.


I'm going a little different today by reviewing a non-fiction book. We always say no to requests to review non-fiction books but we made an exception for
Secrets Girls Keep
because we thought it might be something beneficial for our followers.

I have a great home/family life and we talk about everything but this was still an interesting and informative read, full of great advice about lots of things girls deal with.

Here's a list of the Chapter Titles:
7 Tips Every Girl Needs to Deal with Any Problem

Beauty is a Beast

Boys, Boys, Boys

Best of Friends or Worst of Enemies

Funky Family Stuff

Dealing with School, Now and Beyond

Are You Cyber Savvy?

Dealing with the Tough Stuff

What's Your Secret?
I also liked the way the book is laid out. That may sound shallow but when your target audience is teenage girls, you want if to be appealing to the eye or they aren't going to want to read. It is a readable format and organized in a way that is inviting to look at. There are short little blurbs tucked in on the sides and various quizzes to take throughout.

One of my favorite additions is having quotes from teenage girls talking about a personal experience that is relevant to the chapter subject. This gives the book a personal touch and a sense of real life that other girls can relate to.

Silver-Stock's voice is positive, fun and informative without sounding preachy or like she's giving a lecture. She comes across as a trusted friend giving out helpful advice.

I enjoyed this book and think is could be a positive influence for girls in general but also for someone who is having problems and could use some good advice. Hey, it's tough out there for teenage girls and every bit of good advice helps.

The official fan site is here, and Silver-Stock has a social networking site that "
provides support, advice, and tips on the issues teen girls struggle with most
."


So here is a spontaneous giveaway for our followers. If you'd like it for someone you know or for yourself, just fill out the form. And, sure it's international!

I'll leave the giveaway open until Dec. 20 (11:59 PST)
1) You need to fill out the form below.

2) Comment on this post.
No extra points since it's just a quickie and honestly, I'm just trying to get it into the hands of someone who could really use it.



FYI: Our next MegaGiveaway will be announced next week so keep a look out!