Natalie at Mindful Musings is our new affiliate. We're so excited! She has several awesome bloggers joining in on this.
Tina @ Tina's Book Reviews
Taschima @ Bloody Bookaholic

Abigail @ All Things Urban Fantasy
Misty @ The Book Rat
Kristen @ Bookworming in the 21st Century
Adrienne @ Addicted Book Reader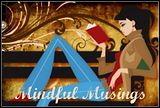 Natalie has her Best Blogger of 2009 poll going on. With so many great bloggers to choose from it's hard to pick only 5! Be sure to vote here before Dec 20. And thank you to several kind folks that have put our name in the hat.

Jessica W. (Book Bound)
Eleni @ La Femme Readers
Nikki @ Ramblings of a Bibliophile
Chioma @ Black and Blue Ink
Lisa @ A Life Bound by Books
Stormi @ Books, Movies Reviews! Oh My!
Alessandra @ Out of the Blue Book Reviews

We really appreciate your support especially considering all of the stiff competition!

Natalie also has this great Follower Feature where she blogs about wonderful new blogs she has found. This week she highlighted Star Shadow Book Blog and The Cajun Book Lady. We checked them both out and agree that they are fantastic.

We think this is a great way to spread the word about other bloggers. You can request that Natalie highlight you too. We were also wondering if any of our followers would be interested in having us do this feature as well. Uhhh, that is if Natalie says it's okay to steal her idea. We'll see if we get any interest.

Natalie continued her busy week by guest blogging over at Peace Love and Pat. Her topic? You're Never Too Old for YA. We wholeheartedly agree! Our mom and aunt read YA almost as much as we do! Be sure to check out her great post!




- And our personal favorite. the First Annual Urban Fantasy Cover Art Awards. It's a favorite because Abigail was kind enough to allow Alyssa to vote on the nominees (even listed her as an expert). It's a fun contest for all of us cover junkies. Be sure to go vote here by Dec 30. She's even giving away prizes!


Here's a challenge just for the holidays!

Karin at Karin's Book Nook is hosting a Holiday Break Reading Challenge. You can pick as many or as few books as you like and she's giving away prizes.

She says: "T
he librarian in me always wants to encourage reading for pleasure and the holiday break provides the perfect opportunity. For that reason, I decided to create the Holiday Break Reading Challenge
."

Just a bunch of stuff we thought you'd find interesting. Have a great day!


And FYI - All the Prize Books went out earlier this week.
Bookmarks included!