Went to Mindful Musings.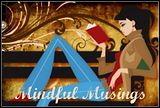 Read the 22

nd

line of Beautiful Creatures (I've got to start that one) and then saw that

Staysi

from Lost in Ink is a new affiliate. Very happy about that so went over to say Hi.



She had this fun quiz to take that she found over at Caitlin's blog, All Things Print.
Caitlin found it over at Book Chick City.


I decided to take the quiz. Here is my result and I left a link below so you can do it too!


Your Holiday Wish is Being with Family and Friends
The holidays are near and dear to your heart. You don't need much to make you happy this time of year.
As long as you're able to be near the people you love most, you are content. It's really that simple.


You want nothing more than a full house of people celebrating the season. It doesn't matter if it's your house or not, just as long as everyone is there.
And if someone doesn't happen to be around during the holidays, you think about him or her often. You get very sentimental this time of year.



This wasn't a surprising conclusion. I'm a confirmed homebody who loves to hang out with my family (even those annoying brothers of mine), preferably in my pj's, talking, laughing, relaxing, playing games and just being together! And eating great food, of course! It's a fun quiz and I thought you'd like to take the quiz and find out...


Hope all your wishes come true!