Teaser Tuesdays is a weekly meme hosted by
MizB at Should Be Reading
.


Here's what you do...

Grab your current read

flip to a random page

select 2 sentences from anywhere on the page

try not to include any SPOILERS!

make sure you tell the name of book and the author so we can add the book to our TBR pile!
Please feel free to add your link below so it's easy for others to check out your posts!



Jake's reading...
Deryn rolled her eyes. First a bag of gas and insect guts had carted her halfway across England, and now she was getting cheek from a barking lizard!

Page 73. Leviathan by Scott Westerfeld


"Easy now," she said in the kind of v
oice one used to calm a jittery horse.
She made a swift, stinging slit on his neck, press
ed the jar against his skin, and began to fill it with b
lood.
Page 31.
Stealing Death
by Janet Lee C
arey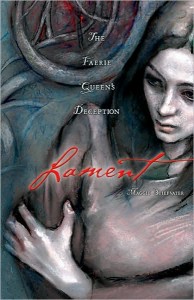 Alyssa's reading...

I imagined the knife lying gently across my neck leaving a red tra
il behind it, he'd killed so many people before; I didn't know him at all. But I still couldn't be afraid, no matter how much my logical mind warned me to be. I couldn't seem to think of him as anything but my protector.

Page 151. Lament, by Maggie Stiefvater


What did you get? Feel free to add your Tuesday Teaser link below!