We are thrilled to have over 175 followers.!Thank you to everyone for such great support and enthusiasm for our
MegaBook Giveaway
. The contest will now have a total of
13 winners
of at least one book each. Awesome!
We were busy this weekend and didn't have a chance to let you know what books we're adding so here goes.
We promised
Fire
by Kristen Cashore if we made it to 150 so that great adventure is now up for grabs.
Since several commentors asked for some classic Jane Austen,
Pride and Prejudice
has also been thrown into the pile.
A wonder new YA fantasy adventure novel,
Midnight Charter
, by David Whitley can also be yours.
And last but certainly not least a book from James Patterson's exciting Maximum Ride series has been added -
Maximum Ride: School's Out Forever
.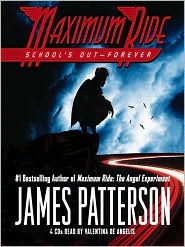 Hope you like the new picks and remember if you haven't entered the contest, please go to the
MegaBook Giveaway post
to get your name in the hat!
Thanks to you all!

Giveaway ALERT!
If you've already entered the contest, a comment on this post (within 5 days of post date) gets you 2 extra entries in our MegaBook Giveaway. If you haven't entered yet,
go to the contest post
(or click on the contest link on the upper right sidebar) to learn about the giveaway and enter! Good luck!