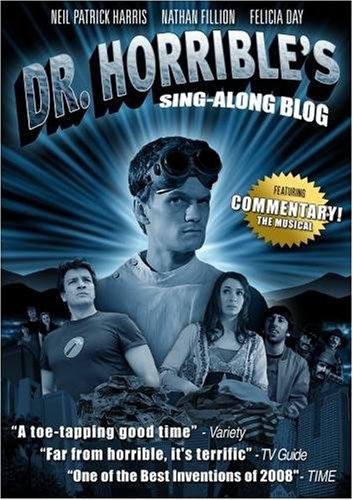 Dr. Horrible's Sing-Along Blog, is a Musical-Comedy-Tragedy starring Neil Patrick Harris (TV's

How I Met Your Mother

), Nathan Filli
on (currently on TV's

Castle
as heart throb/novelist/crime fighter Rick Castle, and former Captain Mal on Firefly), and Felicia Day.

It follows an aspiring super villain, Dr. Horrible (Harris), who wants to be inducted to The Evil League of Evil. His nemesis, Captain Hammer (Fillio
n), and their mutual love interest, Penny.

Written by Joss Whedon, Zach Whedon, Jed Whedon, and Maurissa Tancharoen, Dr. Horrible's Sing-Along Blog was a project spawned during the WGA writer's strike to be something small and inexpensive yet professional.

Originally planned to be aired on television, with all the restrictions and the strike going they decided instead to produce it independently and distribute it on the internet.

It has won countless awards and Time Magazine named it #15 in T
ime's Top 50 Inventions of 2008.

I'd heard great things about this, but because of one little incident where my entire family hated a movie that I REALLY liked (

Cloverfield

), nobody listens to me when when I have a video rental suggestion.

A friend recently brought over his copy, and we finally got to see it
... more than a year after it was available (You never get me anything I want, MOM!).

I knew that it was going to funny but I had no idea it was going to be this amazing! Neil Patrick Harris is absolutely great as the obsessive, neurotic would be villain, and Nathan Fillion is the perfect pompous jerk!

It's campy. It's goofy. It's cheesy. It's silly. It never takes itself seriously.

Your abs will get a workout from all the belly laughs. A great way to help get rid of all those Thanksgiving Day calories we will be gobbling down tomorrow!

Just FYI, Joss Whedon also did the TV shows Firefly (so sorry that's gone), and Dollhouse, and also Serenity (the Firefly movie).

Definitely rent this one. It's worth it! You'll thank me when you see your tight abs!