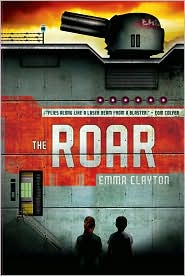 By Emma Clayton
Pub: April 1, 2009
496 pages

If the simple the fact that the story is posed in London in the future doesn't grab your interest, Emma Clayton's thrilling sci-fi novel
Roar
will pull you in on its own. It gives you a fresh new feel, with a touch of Star Wars added, like a delicious dash of exotic spices. Even though it's from a twelve-year-old's point of view, I think older readers (including myself, of course) will enjoy this book.
Mika lives in futuristic London, behind a huge wall that protects the citizens from the mysterious animal plague that swept the city many years ago. But since his twin sister vanished a year ago, Mika has suspected there is more to his world than he has always been told. When an organization starts recruting children to play violent,
very
realistic virtual reality games, Mika uses it as a chance to search for his missing twin and uncover a startling truth.
Mika is easy to root for. Throughout the story, he is a brave and believable character that you want to stick with for the exciting ride; even when the dialogue gets a bit sketchy. He manages to discover secrets, and unravel their truths in ways that kept me reading with eager anticipation. When the end of the book came and a fountain of surprises erupted before me, I was quite dissappointed that the book had finished.
At one point, the book touches on the fact that humans didn't take care of the earth, and that was what caused the disastrous animal plague. I thought 'Oh great, this is going to be some environmentalist book that bashes people while at the same time trying to be a science fiction, action packed adventure.'I was pleasantly surprised to find that yes, it was an action packed adventure, but there was no bashing involved.
I had a bit of a problem connecting to the villain of the story. My friends, the villains do, in fact, need to be identifiable, as twisted as that may sound, but I had trouble relating to this particular 'bad guy.' Even in the end, when the motives for his evil deeds become clear, I still felt that he could have had much more depth.
With that aside, the book was completely enjoyable and I would personally reccomend it to sci-fi fans and people who simply enjoy a good tale. Emma Clayton certainly wrote an amazing first novel that kept me guessing and sucked me in all the way through until the end.