"Waiting On" Wednesday is a weekly event hosted by Breaking the Spine that spotlights upcoming releases that we're eagerly anticipating.

Here's the Teen Fiction we're waiting for...


Glimmerglass

Jenna Black
Release: 5/25/10



Dana Hathaway doesn't know it yet, but she's in big trouble. When her alcoholic mom shows up at her voice
recital dru
nk, Dana decides she's had it with being her mother's keeper, so she packs her bags and heads
to stay with her mysterious father i
n Avalon: the only place on Earth where the regular, everyday world and the magical world of Faerie intersect. But from the moment Dana sets foot in Avalon, everything goes wrong, for it turns out she isn't just an ordinary teenage girl—she's a Faeriewalker, a rare individual who can travel between both worlds, and who can bring magic into the human world and technology into Faerie.
Soon, she f
inds herself tan
gled up in a cutthroat game of Fae politics. Someone's trying to kill her, and everyone wants something from her, even her newfound friends and family. Suddenly, life with her alcoholic mom doesn't sound half bad, and Dana would do anything to escap
e Avalon and get back home. Too bad both her friends and her enemies alike are determined not to let her go . . .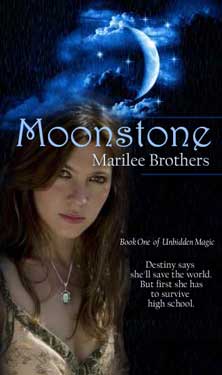 MoonstoneMarilee Brothers
Release: 8/1/10

A sickly mom. A tiny house trailer. High school bullies and snarky drama queens. Bad-guy dudes with charming smiles. Allie
has problems. And then there's that whole thing about fulfilling a magical prophecy and saving the world from evil. Geez. Welcome to the sad, funny, sometimes-scary world of fifteen-year-old Allie Emerson, who's struggling to keep her and her mom's act together in the small-town world of Peacock Flats, Washington.
An electrical zap from a TV antenna sets off Allie's weird psychic powers.

The
next thing she knows she's being visited by a hippy-dippy guardian angel, and then her mysterious neighbor, the town "witch," gives her an incredible moonstone pendant that has powers only a good-hearted "Star Seeker" is meant to command. "Who, me?" is Allie's first reaction. But as sinister events begin to unfold, Allie realizes she's got a destiny to live up to. If she can just survive everyday life, in the meantime.
Raised by Wolves
Jennifer Lynn Barnes
Release: 6/8/10


Adopted by the Alpha of a werewolf pack after a rogue wolf brutally killed her parents right before her eyes, fifteen-year-old Bryn knows only pack life, and the rigid social hierarchy that controls it. That doesn't mean that she's averse to breaking a rule or two.
But when her curiosity gets the better of her and s
he discovers Chase, a new teen locked in a cage in her
guardian's basement, and witnesses him turn into a wolf before her eyes, the horrific memories of her parents' murders return. Bryn becomes obsessed with getting her questions answered, and Chase is the only one who can provide the information she needs.
But in her drive to find the truth, will Bryn push too far beyond the constraints of the pack, forcing her to leave behind her friends, her family, and t
he identity that she's shaped?
What are you waiting for?